Work Better Together from Anywhere
Google G-Suite
---
More than 5 million businesses have made the move to Google Apps to help employees work better together and be more productive, wherever and whenever they work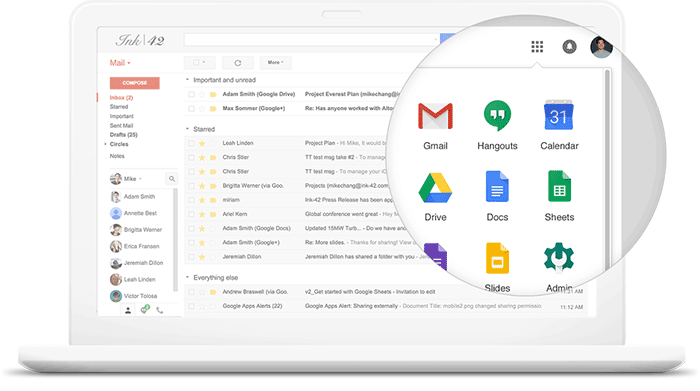 Google's solution is cloud-based, which means software updates are as easy as refreshing your web browser. With Google Apps, there are no servers to purchase and maintain, reducing IT cost and complexity
Google Apps includes secure, reliable workplace tools for email, calendar, text and video chat, document creation, project websites, and online storage and sync, and allows for easy extensibility with hundreds of applications in the Google Apps Marketplace.
Business Benefits of G-Suite
Proven productivity gains and cost-savings
Not only can Google Apps save customers the cost and complexity of legacy solutions; our web-based applications also drive proven productivity gains. In fact, with productivity-boosting features like multi-person, real-time collaboration in Google Drive and fast message search in Gmail, the total business value of Google Apps is over 3 times greater than the cost savings alone
Continuous innovation without upgrade hassles
Google continuously adds functionality to Google Apps, making employees more productive – without the need for system updates, patches or downtime. Google Apps delivered more than one hundred improvements in the last year, at no additional charge and without the complexity associated with traditional software upgrades
State-of-the-art security and reliability
Google's network of data centers is engineered for security, reliability and redundancy, and backed by some of the world's leading experts in information security. Google Apps includes 2-step verification, a two-factor authentication system that significantly increases protection from unauthorized access to user accounts
Extensibility
Google Apps makes it easy to run your entire business in the cloud. With the Google Apps Marketplace, you can access a fast-growing collection of hundreds of applications that integrate with your business processes. For example, you can manage your entire sales cycle anywhere you have access to a browser through Marketplace apps: Send marketing and lead-generation emails through MailChimp, manage and track responses with Zoho CRM and even close the sale with an e-signature from EchoSign.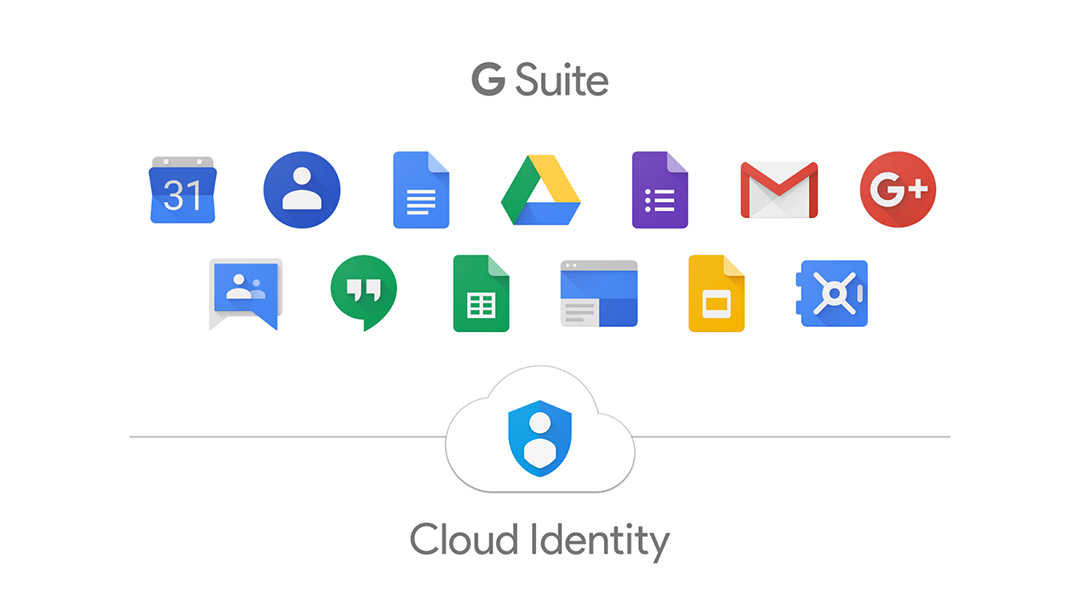 Gmail
Provides storage for up to 30GB of email per user, plus advanced spam filtering, lightning-fast message search, integrated text, voice and multi-person video chat and other productivity enhancements such as Priority Inbox. Gmail is accessible securely from almost any mobile device with a data connection, including Android, iPhone ® , iPad ® , BlackBerry ® and Windows Phone ®
Google Calendar
Helps employees organize their schedules and create and manage shared calendars with colleagues. Multiple calendars can be overlayed to view schedules at a glance, and the "Quick Add" feature understands natural language so you can easily create appointments by typing event information into a simple text box. Google Calendar is available from any web browser and works with all major mobile platforms.
Google Drive
is the one place to store everything, so you can access the most recent version of your work from anywhere, on any device, including phones and tablets. Each user has 30GB of included storage and can add more as needed. With Drive you can store any file and instantly view common formats including documents, PDFs, images and even videos right in your web browser. Share files or whole folders with individuals or your entire team, and with granular file permissions it's easy to control who can view, comment on or edit your work.
Google Docs
brings real-time collaboration to your documents, so you and your team can work on the same document at the same time and get things done faster. Import popular document formats like .doc, .docx and .rtf and add images, tables, equations, drawings, links and more. Social commenting makes it easy to get feedback and approvals from the right people. You can be productive even when you're away from the office with support for creating, viewing and editing documents on your iPhone, iPad, or Android phone or tablet
Google Slides
Google Slides makes it easy to create beautiful presentations together, with support for things like embedded videos, animations and dynamic slide transitions. You can import popular presentation formats like .ppt and .pptx and when you're ready to share, you can publish your presentations on the web for customers to view or share them privately with colleagues or partners. When you're on the go, you can give presentations right on your iPhone, iPad, or Android phone or tablet
Google Sites
Google Sites lets users create and share project websites and intranet pages without any programming skills or technical support. Sites helps to keep everyone on the same page – literally – by making it easy to centralize and organize team documents, calendars, videos and more. With just a couple of clicks, you can optimize your sites for viewing on mobile phones and tablets as well.
Google+
Google+ brings social sharing to Google Apps and helps connect the right people, ideas and information in your organization. * Share private posts with your company to ask questions, find experts and get answers or connect with partners and customers outside your company. Follow colleagues to keep track of what they're working on and create Communities to share ideas with project teams. Google+ also includes Hangouts, which brings online video meetings right to your laptop, phone or tablet so you can join from anywhere. Invite up to 15 participants and work together with screensharing and collaborative document editing.
Google Apps Vault
Google Apps Vault is a retention, archiving and eDiscovery tool optionally available to Google Apps customers. Vault allows you to manage business critical information and can help you be prepared for the unexpected such as a lawsuit or employee departure. You can reduce time and costs associated with responding to legal discovery requests, audits or internal investigations. If an employee leaves your organization, Vault can help you understand the status of projects and communications they were involved with.
Ready to start your own project ?