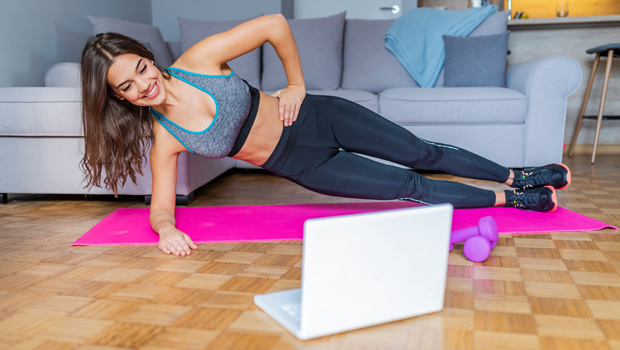 We are creatures of habit in what we eat, where we work, what TV shows we watch, when we work out etc. Right now with Covid-19, all those habits have been shoved out of the window. The extensive social distancing policies put in place to limit the spread of COVID-19 means most people will have to spend much, if not all, their time at home.
With new terms as "keeping social distance ", gyms have closed their doors, but does that mean we stop exercising and keeping fit? Remember one of the things you should do to fight this Covid-19 monster is to be physically fit. So, as we still keeping our social distance and quarantine ourselves, we can still exercise and maintain a healthy routine. Here are a few exercise routines you can embrace and practice.
Take a walk
There are a million and one benefits of walking, which have, long been documented, this benefits include reducing the risk of heart disease, strengthening bones and muscles, and improving your mood according to medical gurus. Walking just for 30 minutes a day can make a difference.
There is a question of how to take a walk while still maintaining social distance? Well that should not worry you if you follow simple instructions of keeping a six-foot distance between yourself and others and also wearing a mask as you take the walk.
Stairs climbing
Using the stairs is an extremely time-efficient way to maintain fitness, and of course it's free. If you live in an apartment with lifts, how about avoiding that uncomfortable lift encounters with other self-isolating neighbors by using the staircase for any necessary outdoor journeys. While at it, take care to avoid much contact with handrails.
Online exercise Classes.
Take advantage of the wealth of online exercise classes. Many of these are free and can be found on YouTube. With the quarantine and social distance directives, we can create our own gym through YouTube, with over a thousands of exercise videos available online. Since so many of us have smart TVs these days, one great way to build a library is to save a number of workouts into playlists you can easily stream onto the sets around your house.
Make sure to gather workout clips that cover the whole body: upper body workouts, lower body, abs, butt, cardio, strength, yoga, balance, flexibility and stretching.
Dancing
Dancing is an excellent way to protect your heart lowering anxiety, reduce stress, and increase your flexibility amongst other many benefits.
Dancing also has established mental health benefits to help us cope with the coronavirus-imposed solitude. We can all agree staying at home weather working or not with this pandemic can easily stress and break anyone, even the strongest.
That said we can use this isolation time and experience the magic of music whether its reggae, Rock, local music which ever floats your boat, it will not be difficult to turn up the volume of your stereo a little higher and turn your lounge or kitchen into a little dance hall and lets dance the COVID-19 blues away at home like nobody's watching.
Yoga
With the Covid -19 crisis almost every one has been left worried, stressed and lonely with no routine. There is no better time to start practicing yoga.
It can be practiced in the comfort of your own home, at any level, regardless of how silly you may feel.
Doing Yoga on a regular basis can be extremely beneficial for your flexibility, help you boost your strength and improve your overall fitness.
With a focus on self-care, deep breathing, meditation and exercise, yoga has proven benefits for both mind and body.
Setting aside time for yoga also provides routine in your day and gives your mind a break while working from home.
Total beginners or experts could follow YouTube Videos, or purchase a book of yoga poses to work from.